Upset Win in City Safari!
New Zealand rogaining champions Jamie Stewart (Wgtn) and Greig Hamilton (Chch) were beaten today in the Metlink City Safari, an urban form of the map sport in which public transport provides a moving but predictable playing field.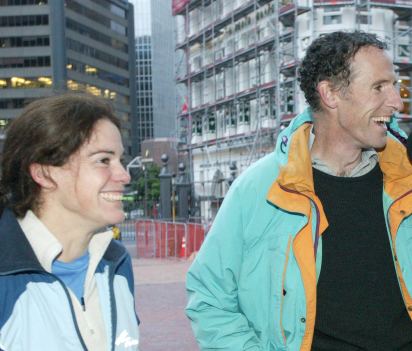 Britainís first orienteering gold medallist Yvette Baker, and three-times Irish orienteering rep Bill Edwards, both now living in New Zealand, won the 6-hour team event in Wellington.
This was an upset as Stewart and Australian David Rowlands won the Safari last year, and his NZ rogaining win was only 4 weeks ago. However the 40-yr-old Edwards is a current world masters orienteering champion and has just returned from a British Championship win. Baker retired from elite competition after her win in 1999, but evidently retains considerable fitness.
With an impossible 103 control points throughout the city including the 445m Mt Kaukau, teams had to make difficult choices about the most profitable route. From the start on the waterfront the winning pair climbed through Kelburn to Tinakori Hill before bussing to Newlands. They worked their way back through the western suburbs including Kaukau, reaching Brooklyn before finishing with 8min to spare. Their winning score was 1470, 200 ahead of the men. Wellington city councillor Andy Foster with Ramash Swamy were third on 1200 points.
A 3-hour section was won by Florence and Martyn Reynolds who tied on points with Adele Fitzpatrick and Vicki Connor, but were given the result by finishing earlier. School competitions were won by Samuel Marsden (Lauren Turner/Hannah Barnes) in the 6-hour and Rongotai College (Jonathan Wood/Ivan Wilby) in the 3-hour.
Nearly 600 participants used bus, train, ferry and cablecar services in the Metlink network. This is the largest rogaine in NZ and may be the largest orienteering event of any type in New Zealand this year.
Result summary, just the top few in each category. Full results...
Six-Hour Event
Team
Category
Members
Affiliation
Score
Place
The Champions
Mixed
Bill Edwards, Yvette Baker
UH/Wgtn Orienteers
1565
1st O'all, 1st Mixed
The Titleholders
Open
Jamie Stewart, Greig Hamilton
Wgtn/Chch Rogainers
1385
2nd O'all, 1st Open
The Two-Timers
Open
Andy Foster, Ramash Swamy
Wgtn Off/Rd Runners
1285
3rd O'all, 2nd Open
The Originals
Biz House
GWRC
Al Cross, Nigel Corry
Petone/Wgtn Multisporters
1130
4th O'all, 1st Biz House
Skippy and 1 Old Chick
Mixed
Steve Wagner, Debbie Mansfield
Upper Hutt Rogainers
1120
5th O'all, 2nd Mixed
Pants Off Dance Off
Women
Lisa Phelan, Fanny Toorenburg
Petone
1110
6th O'all, 1st Women
YYYY
Women
Jenney Cossey, Emma Watson
Wgtn Rogainer, HB Orienteer
980
11th, 2nd Women
Family Randal
Family
John, Kaitlyn & David Randal
Wgtn MTBers
895
13th, 1st Family
Mugby
School
Sam Mars
Lauren Turner, Hannah Barnes
Karori Orienteers
825
20th, 1st School
Flying Takahes
Family
Mike Fee, Jenny Visser, Chris V-F
Island Bay Rogainers
800
23rd, 2nd Family
2 Les than Wise Men Plus 1 Unwise Woman
Biz House
P'ram Coll
John & Jenny Bocock, Graham Richardson
Paraparaumu Orienteers
675
35th, 2nd Biz House
Bush Ninjas
School
Ethan Bryant, Adam & Daniel Jepson
Ohariu
630
37th, 2nd School
<!*******************************************--3hr-->
Three-Hour Event
Team
Category
Members
Affiliation
Score
Place
Florence and The Machine
Mixed
Florence & Martin Reynolds
Karori
575
1st O'all, 1st Mixed
Rongotai WW
School
Jonathan Wood, Ivan Wilby
Island Bay Orienteers
570
2nd O'all, 1st School
Fitzpatrick
Women
Adele Fitzpatrick, Vicki Connor
Karori
565
3rd O'all, 1st Women
"O" Men
Open
Peter Wood, Nick Engleback
Island Bay Orienteers
555
4th O'all, 1st Open
WTMC Chicks
Women
Jo McKenzie, Suzie McQuoid, Ann Kendon
Wadestown Trampers
555
5th O'all, 2nd Women
Crazy Horses
Mixed
Nicola Roderick, Jase Kirkland
Miramar
510
6th O'all, 2nd Mixed
Onslow O-Ringers
School
Onslow Coll
Shamus Morrison, Calvin Standrill, Callum Bedford
Onslow College
505
7th O'all, 2nd School
Clendon
Family
Fiona Clendon, Ryan Sheridan
Eastbourne Rogainers
500
9th, 1st Family
Sheridan
Family
Mike & Hillary Sheridan, Ruby Burley-Smith
Eastbourne Rogainers
495
10th, 2nd Family
Tim's Triumvirate
Open
Tim Kannegieter, Paul Sparks, Graeme Olliver
P/North Orienteers
495
11th, 2nd Open
Belly Full of Rooster
Biz House
Datacom
Simon Tankersley, Peter Bratby
Wgtn
325
55th, 1st Biz House
The Interislander Team 117
BHouse
Robert Chappell, Mal Ngaki, Vanny Beveridge, Mate Faausu
U/Hutt Sailors
255
90th, 2nd Biz House
This page is maintained by and was updated on 19 May 10